Who We Are
Jimerson Birr is a Florida-based law firm with global reach that seeks to exceed client expectations through commitment to excellence and by adding value to our clients' businesses. We are committed to handling each matter with the same quality, care, attention to detail and respect as if we were representing ourselves. We are accessible, responsible, prepared, efficient and results driven. Our clients and colleagues value us because they trust our integrity and abilities.
Our team has accepted the lasting responsibility of protecting our clients' rights, businesses, properties, investments and finances. In both established and emerging businesses, our professionals are integral, trusted advisers and advocates, giving our clients insights into legal and business considerations that guide prudent decision making. We work with some of the world's most respected and well-established businesses, as well as start-up visionaries, and individuals looking to overcome challenges. Our award-winning law firm is at its best when it helps clients set measurable goals and develops multi-level strategies to achieve them. Our lawyers are trained to take ownership of our clients' challenges by getting close to the problem and close to the people who can benefit from the solutions we provide.
Jimerson Birr is dedicated to helping clients manage risks, maximize opportunities and move their businesses forward. Our attorneys work resolutely to protect and promote our clients' interests on legal matters around the world, often high-stakes litigation with immeasurable consequences. We're business-oriented lawyers equally comfortable as community leaders, private transaction counselors or courtroom advocates. Efficiency and effectiveness are the highest priority for our firm, and we continue to look for ways to partner with clients in identifying new strategies, new approaches and different ways of working together to optimize results.
What Is Important To Us
At Jimerson Birr, as a company, we've identified three things that are most important to us: our clients, our colleagues, and our communities. We believe in putting people first, and our dedication to results-based service and doing the right thing is at the heart of what we do. Our relationships are built on trust that we build every day through every interaction. Our employees are empowered to perform optimally and ethically to ensure they share our clients' vision for success. Jimerson Birr works tirelessly to power the potential of our clients, colleagues and communities.
For clients, it is important to us to become essential by providing services that have enduring value in helping them achieve their goals. We strive to be indispensable to our clients by delivering remarkable results and exceptional experiences every day. Our promise is to have their backs in everything we do. It is important for us to deliver an unparalleled standard of excellence in everything we do, staying focused on the biggest opportunities to be impactful to our clients. Retaining loyal clients is important to us, because we want our clients to trust our brand and people. We earn that trust by ensuring everything we do is reliable, consistent, and tethered to the irresistible goal of producing enduring value.
For our colleagues, it is important to us to practice servant leadership through respect. We trust and respect one another for who we are and what we contribute. We are accountable to one another and empower every voice through open, courteous dialogue focused on delivering client results. As co-workers, we focus on the needs of others, especially team members, before we consider our own. Our culture is one of acknowledging other people's perspectives, giving them the support they need to meet their work and personal goals, and building a sense of community within our team. It is important to us that each team member embody and contribute to our firm's core values and cultural goals, which we hire by, train on, and live by.
For our communities, it is important to us to invest in the well-being of the places where we live and work. As a company, we are proud to make positive economic contributions that include providing good jobs with opportunity, and donating our time and money to causes we believe in. We consider ourselves fortunate to be able to support local organizations and causes that help to make our communities stronger. Our community investment is grounded in our commitment to serve programs that provide public benefit, advance human relations at a fundamental level and improve the public's perception of lawyers. Our belief is that all people deserve to live healthy, safe, and fulfilled lives. By immersing ourselves in our communities and employing people who are dedicated to bettering the world, we are able to learn so much about how the community and its people work. We gain a unique sense of purpose by serving those around us, one which often manifests in other areas of personal and professional lives.
Our core values are simple: Commitment to service; Commitment to quality; Commitment to results.
What We Do
Growing demand for our services has shown that hiring and retaining the most capable and fulfilled employees translates to positive results and enduring value for our clientele. Our practice is full service, as we are equipped to address most any need a business will have in the industries we serve. At Jimerson Birr, we take a multi-disciplinary approach to handling complex legal matters and in advising clients on a wide range of legal issues. We are well-rounded and accomplished, from bet-the-company litigation and business-changing transactions to daily risk-management counseling and regulatory guidance. With broad industry knowledge and significant experience in our areas of practice, we devise solutions that address each client's particular needs and objectives to assure the highest levels of effective representation. We do all this on a state, regional, national, or international scale, as our esteemed and venerable clients expect.
Who We Do It For
Our most important service axiom is to listen to our clients to ensure that we garner a complete understanding of the complexity of their legal issues and business goals. By aligning our practice with certain industries, we bring together the knowledge and experience of attorneys from varied practice disciplines with a primary focus on addressing our clients' industry-specific needs. This knowledge enhances our ability to offer advice and counsel on specific legal needs based on an understanding of the sector. We advise business executives, department heads, entrepreneurs, investors and individuals on critical transactions, disputes, and regulatory matters within dozens of industries and lines of work, reflective of the Florida and U.S. economy at large.
Why We Serve Who We Serve
We are selective in only taking on clients whose needs align with our service specialties. Every consultation begins with an assessment of client goals and pain points, and then a thorough vetting of that information against our core competencies and capacity. We do not engage clients without understanding their true needs and aspirations, and we do not accept any representation of a client or trade that whose needs don't actually align with our expertise and service offerings.
We find that when our core values and goals align with those of our clients, we are especially motivated to push ourselves to deliver great results that reflect an appreciation for the significance of the relationship. Our best client relationships are the ones where there is mutual respect and appreciation. Enjoyment, challenge, prestige, gratification, integrity, creative freedom, communication style, responsiveness, investment and personal chemistry are just some of the reasons our lawyers have cited in recent surveys for why they choose to represent the clients they do. We have found that when we personally enjoy our clients the way we do, it influences everyone's attitude and energy level. A lawyer-client team with compatible goals and attitude are often the source of our force.
Jimerson Birr's clients understand the value of our ongoing relationship. Our clients are apt to engage the firm for multiple matters because of the mutual satisfaction levels we share. The firm fully understands that while acquiring new clients is necessary for our business to grow and prosper, it is the significance of repeat engagements from loyal clients that makes us stand out from our competitors. Repeat engagements with pleased clients is the lifeblood of our business. Our indefatigable commitment to the client service experience and measurable results keeps our clients happy, loyal and satisfied so that they will come back again and again. We choose clients as we would choose our friends, and when chosen, we treat them like our family.
Where Are We At and Where Are We Going
We are lawyers dedicated to utilizing our collective experience to provide personalized solutions to the challenges our clients face in doing business, from corporate formation to wind down and everything in between. Our firm seeks to be flexible in the way we offer uniquely tailored legal counsel and the way we are compensated for our work. Each of our lawyers is their own sophisticated brand, trained to practice law in a creative and efficient manner designed to get results. At our core, we are fundamentally focused on redefining what it means to provide exceptional professional services to our clientele at a competitive market rate.
Delivering quality legal services that our clients truly value means understanding their business, caring for their needs, being invested in their success, and supporting them to achieve their objectives. Combining technical expertise with commercial wisdom enables our lawyers and staff to turn the most complex questions into the clearest answers. Our lawyers and support staff will approach each matter we handle with an invigorated, pragmatic business style geared towards distilling complexity and providing clear-cut solutions for our diverse and select client base.
Our vision is to be a leading business law firm in the Southeast U.S. with unrestricted legal capability and capacity. We will do this by only hiring people who love practicing law and then empowering them to grow and to achieve great things for our clients in an energetic, dynamic and supportive environment. Passion, aptitude and a deep understanding of business and people is the powerful mix we will bring to every engagement. Delivering measurable value is at the heart of Jimerson Birr's offering. We ask the right questions, listen intently and focus not just on what clients want, but how they want it. The information we glean from collaborative representation and goal alignment will help our clients recognize where they are, where they want to be, and where they could be.
Why Clients Should Choose Us
Jimerson Birr offers clients a customer-focused and cost-effective alternative to larger business law firms. Our firm prides itself on our attentive and personal approach to every client. We work closely with our clients to discover and implement the customized legal solutions that best meet their needs. Jimerson Birr handles commercial transactions and disputes with the same dedication and intensity whether our client is a Fortune 500 company or a privately-held small business.
Our Florida-based law firm has national reach and a national reputation for being well-prepared counselors, influential negotiators and aggressive litigators. In-house corporate counsel, corporate executives and department leaders, business owners and individuals choose our firm because we are dedicated to gaining an operational business knowledge of each company we serve in order to employ clever strategies geared towards achieving client objectives established at matter inception. Our proven approach to an efficient and results-driven practice of law allows us to be a trusted partner to our clients in building a business designed to bring them the future they desire.
Legal challenges are often very complex. The lawyers of Jimerson Birr have a communication style that ensures ensure that they don't become perplexing as well. Clear, luminous and digestible communication is a hallmark of our dialogue with clients. As a leading legal service provider in the business law space, we have a reputation for innovative and flexible service delivery that keeps clients with us for the long-term. Our ability to provide meritorious solutions, combined with our deep industry expertise and specialty service knowledge, builds long-term relationships in an business climate that is constantly changing.
Our clients choose Jimerson Birr because they want a partnership with a successful, solutions-orientated firm they can rely on to add value in current transactions, litigation, regulatory or operational challenges. We have a "problem spotted, problem solved" mentality that gives our clients the peace of mind they need to manage risk and run a profitable business. Our quick and sensible methods of resolving commercial disputes, closing deals, or managing operational risks guarantee minimal business disruption, limit the economic loss of our clients, and create opportunities for future growth.
We welcome all inquiries and invite prospective clients to browse the firm's website so that you may learn more about the industries and trades we serve, as well as the industry-specific legal services that we provide. Also, we strongly encourage all visitors to the site to subscribe to the firm's newsletter and legal publications, which deliver useful blogs, articles, videos and news updates on legislative, legal and business issues impacting those engaged in business in the State of Florida and nationwide.
Why Legal Professionals Should Join Us
Working at Jimerson Birr means feeling empowered to make a difference and inspired to bring innovation to practice of law. We're transforming the legal industry and are looking to bring on talented professionals with varied perspectives. At Jimerson Birr, we acknowledge and value our differences as well as our combined strengths. We want all employees, regardless of their background, to feel respected personally and professionally. We cultivate a working environment that inspires new ideas, promotes ownership and experimentation, and supports highly-motivated individuals to be their best versions of themselves, and invites investment into our corporate culture promoting personal and professional fulfillment. We're constantly working to find new and better ways to help businesses succeed, and we're looking for like-minded people to help shape tomorrow at Jimerson Birr.
A world where anyone can belong anywhere starts with a workplace where employees feel welcome and can contribute their best work. Jimerson Birr welcomes candidates with backgrounds that are traditionally underrepresented in law and offers opportunities to create community and lasting impact in the places we live and work. We provide comprehensive training and support every step of the way to help our legal staff, administrators and legal professionals achieve their career development goals. In return, we expect our personnel to deliver excellent client service and legal advice, possess a strong sense of core values, have a keen intellect, be flexible and accountable, strive for distinction, commit to professional development, serve their communities, and demonstrate leadership. When the expectations of our clients, the firm, and our employees align, we will all find success.
Join us if you are a servant leader who likes to create client value. A career at Jimerson Birr is more than just a job- it's an opportunity to shape the future. We're working to build something meaningful and lasting here. We try to approach everything we do thoughtfully- and if you feel the same about your work, we'd love to hear from you.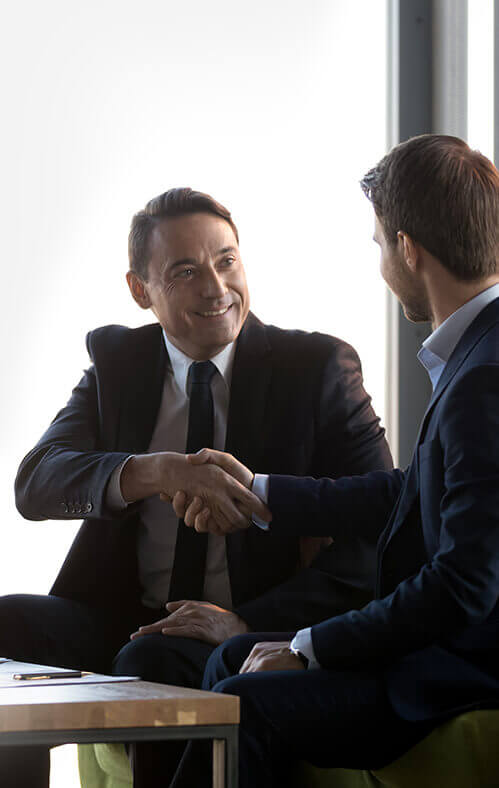 We live by our 7 Superior Service Commitments
Conferring Client-Defined Value
Efficient and Cost-Effective
Accessibility
Delivering an Experience While Delivering Results
Meaningful and Enduring Partnership
Exceptional Communication Based Upon Listening
Accountability to Goals
Learn more
Awards and Recognition
These accolades are objective proof that Jimerson Birr is one of the most respected law firms in Florida. The firm receives numerous awards and tributes year after year for our leadership and expertise in the legal field, our outstanding client service, our demonstrated commitment to our personnel, and our steady growth. Jimerson Birr lawyers frequently earn high rankings and recommendations from business publications, industry and trade organizations, legal news journals and the clients with whom we work. To us, these achievements aren't just blue ribbons- they're demonstrated indicators of the trust, satisfaction and loyalty our employees and clients have developed for the firm.
Ranked as one of the Best Law Firms in America according to U.S. News & World Report in 2020 and 2021.

Firms included are recognized for professional excellence with consistently impressive ratings from clients and peers.
view all Awards
Everything
you need to
Know.
Legal Acumen
We provide timely updates and commentary on legal issues, legislative developments, industry trends and frequently asked questions affecting the industries we serve. Our goal is to report issues that arise in a way that is easy to understand and convenient to use. Stay current with how recent developments in the law and market trends will impact your business.
What Our Clients are Saying...
It seems we were on a run of nasty litigation for a few years in a row, which was a drag on our practice. Without getting into specifics, there were times where I thought we were not going to make it through. Each time Jimerson Birr helped us pull a rabbit out of a hat and overcome our opposition. We sure are glad that is behind us, but we never would have gotten to where we are at without them fixing those problems. We'll always remember that.
- Chairman of the Board for Endocrine, Diabetes & Metabolism Medical Practice Testimonial
What Our Clients are Saying...
Their experience in class-action claim defense has enabled us to achieve some swift, cost-effective results on consumer claims cases. They have a tried and true playbook that works. Jimerson Birr can spout off the law on most of the issues off the top of their head if you ask them too. I was always impressed by that, but what made me more impressed was how good they were to work with when dealing with difficult claimants in challenging cases.
- Complex Claims Specialist for Small Business Insurer Testimonial
What Our Clients are Saying...
In my entire career, I've never seen as convoluted as a case as my last one with Jimerson Birr. This case had everything. With each twist and turn, Jimerson Birr remained calm and steady. They put together a strategy from the beginning that worked. Even things that we couldn't have foreseen didn't shake them as they delivered an incredible result for us. They managed a great case, came in on budget and were a hoot to work with.
- Casualty Claim Specialist at Large Property & Casualty Insurer Testimonial
What Our Clients are Saying...
Jimerson Birr makes business to business debt collection easier than it normally is. They are effective because they are diligent, organized and aggressive. They are aware that a proactive and sensitive approach often yields the best result. They often secure payment in an agreeable manner, without putting a strain on the relationships we have with our customers. When a settlement cannot be worked out, they will go to the ends of the earth to get our money back. I've never seen such creativity and resourcefulness in getting our money back. They've been a trusted partner since the firm started and it has been fun to see our companies advance together.
- Recovery Account Manager at Medical Supply Company Testimonial
What Our Clients are Saying...
The team at Jimerson Birr have served as my legal counsel from my business' inception, and their matter-of-fact, investigated approach has proven to be a great value while navigating a complicated industry with heavy regulation. As a cannabis dispensary with several storefronts, I rest easy knowing that my legal team not only has a stronghold at the forefront of this niche market but also help us to advance our growth with their thoughtful recommendations to ensure my business and investment are protected and flourishing.
- Cannabis Dispensary Chief Operating Officer
What Our Clients are Saying...
This is my choice firm for my company's needs. I've never brought an issue to Jimerson Birr that isn't swiftly remedied and thoroughly examined. When the need arises for sound legal advice or ensuring compliance with the ever-changing laws and trends within the industry, this firm is always prepared and one step ahead with their expertise, anticipation and preparation for what's next. With our technology focus in an emerging industry, it is nice to work with lawyers who have flexibility and intellect to handle complex issues in areas we have watched other service providers stumble.
- Chief Executive Officer of Agricultural Analytics & Technology Company Testimonial
What Our Clients are Saying...
My partnership with Jimerson Birr began when I was referred to them for an assist on a content protection matter. They quickly jumped right in to fully assess and mitigate until a resolution was determined. When seeking counsel to handle the myriad of legal compliance and protection matters within the communications industry, the get-it-done lawyers live here. They deliver what they say they will and have become a trusted resource integral to our successful management.
- Media House Business Development Executive
What Our Clients are Saying...
Trailblazers. Their no-nonsense, proficient understanding of the varied needs of a content generator and distributor is unmatched. From recommended preventive measures to monitoring compliance and enforcement to handling specific dispute resolutions, Jimerson Birr is an excellent example of what a top-of-the-line legal practice can do for members of the communications and media industry.
- Digital News Communications Officer
What Our Clients are Saying...
The commitment of Jimerson Birr is unrivaled. Through collaboration, dutiful guidance and cost-effective solutions, our school's short and long-term goals are on track and our operational capacities have flourished. Working with this firm is an easy decision. If you want to create a positive, smooth experience for staff and students alike, this is who you need by your side to rethink and rework any part of your system. They were particularly helpful with compliance and employment related issues. Their connections in government helped us achieve some goals we were not sure we could reach.
- Chief Financial Officer Testimonial of Private School
What Our Clients are Saying...
This is the firm I use when our university encounters a legal issue in need of a creative solution; particularly on really heated litigation we had. Jimerson Birr's masterful understanding of the facts and law came from our lawyer's dedication to understanding the complex nature of our wild issues and how they affected our institution across more cases than one. I've come to understand that they settle cases that can't be settled short of giving the farm away, and are ready to try any case that merits it.
- College Associate Dean for Finance and Administration
What Our Clients are Saying...
When dealing with a land use and zoning issue, we brought in Jimerson Birr when we needed advanced legal representation. Their ability to quickly traverse the matter and get up to speed was done with nothing but finesse. With fine focus and detail, they were able to help us find a solution for what was becoming a contentious matter. We kept them on board for the next phase of our expansion and are more than pleased with their service.
- Solar Energy Development Executive
What Our Clients are Saying...
Jimerson Birr is always who we go to when our company needs quick action. Their turnaround time on hot-button issues to our utility company is unrivaled. From compliance, environmental diligence, permitting, mitigation and beyond, I have never brought an issue to them that they cannot handle and craft a plan of action that best fits our needs. I have referred many to Jimerson Birr for varied legal matters across multiple sectors and this is due to my immense trust for what these attorneys are able to accomplish.
- Natural Gas Company Vice President of Distribution
What Our Clients are Saying...
As a new franchisee, the decision to purchase a franchise was one that involved much deliberation. During this time and as my family approached a decision, we enlisted Jimerson Birr to guide us through the extensive process. Both the level of service and detail that went into this were outstanding, and the firm's assistance and direction made what can be a tiresome process a much more palatable experience. Without Jimerson Birr, certain contractual nuances may have been missed and become costly aftermath issues. However, nothing was overlooked, a thorough examination of all materials was conducted, and, in the end, we walked away with much more industry knowledge and a clean, successful acquisition. We are set up to succeed with help from this firm.
- Fitness Facility Owner and Operator
What Our Clients are Saying...
As a franchisor who has had substantial work to do in franchisor-franchisee relations when we bought the business, Jimerson Birr was incredibly helpful in getting us focused on the bigger issues that we had to prioritize in order to save all the franchises. We worked to terminate underperforming franchise owners and develop better support systems for performing franchise owners. At this point, I have developed a time-tested, close relationship with many of the attorneys at Jimerson Birr. There are a few we use because of their different specialties. My team is constantly impressed with their level of service, commitment to quality work, and profound recollection of matters that affected each franchisor through the years. The firm has been a good source of continuity when we have had turnover. They are teachers who help us understand what laws are important to us and how certain decisions impact the business. I have referred many friends and peers to Jimerson Birr because, honestly, they are a truly superior business law firm and their service and legal judgment is one I cannot speak more highly of.
- Chief Executive Officer of Restoration Services Franchisor
What Our Clients are Saying...
We've used them for specialized legal services, like legislation drafting, direct advocacy, investigative issues and campaign finance issues. Jimerson Birr has consistently delivered results. Many of these issues required focused legal insight and extensive industry knowledge, which they had. Solid group.
- State Commerce Committee Member Testimonial
What Our Clients are Saying...
Handling employee disputes in the public sector can often times be a daunting task for any law firm. Quick remediation is paramount in order to properly handle multiple parties in a swift manner. Anytime we have brought Jimerson Birr in as counsel for these issues we have been extremely satisfied with the level of finesse delivered. We've never had a PR nightmare when they were involved. I would definitely call on them again if needed.
- County School Board President
What Our Clients are Saying...
Many of us in healthcare, specifically those of us treating senior residents and patients, are no stranger to liability concerns. It takes a very specific skillset to help us properly manage our risk, and Jimerson Birr always provides a superior defense when dealing with these matters. Regulations are tight in our field and you have to follow the rules. With Jimerson Birr, we have a reliable legal defense to prevent issues and treat issues when they arise. They are always looking out for our best interests which, in turn, allows us to provide appropriate care to our patients. Doing what's right can sometimes be looked at through a magnifying glass, but Jimerson Birr is there to assist when actions are honest but additional investigation is required. Very supportive and accountable, which are traits that matter to us when we choose to employ service providers. They are pretty fun loving lawyers too, which makes them great to be around.
- Chief Executive Officer of Assisted Living Facility Testimonial
What Our Clients are Saying...
Jimerson Birr is the only firm that we trust to create, manage and amend relevant documents for the telehealth portion of our organization. They are always knowledgeable on recent state and federal rules and regulations, and this allows us to feel confident that we are staying compliant and ahead of any changes. They offer cost-effective options for the level of attention provided and, in the end, save us from unknown issues and costs if we were not employing their services. My highest recommendation goes to this firm and their healthcare industry team of attorneys.
- Psychiatry Private Practice Owner
What Our Clients are Saying...
This past year, we've seen an ever-changing climate within the hospitality industry, and we have utilized the attorneys at Jimerson Birr to help guide us through these new times. When we decided to outsource certain elements of our business and human resources operations, we brought in the fine team at Jimerson Birr to help is ensure our employees' safety during day-to-day operations. When we had an insurance or leasing issue, they came through. I was thrilled to find out that the folks who helped us on real estate and construction team were dishwashers, servers and bartenders before becoming lawyers. It made me feel like they understood me better and their service mentality was obviously something that they stayed true to. This firm has served us well as they acted as advisors in a variety of capacities relative to management and our staff. I hope I don't need them much more in the future, but I'm sure I will and when I do they'll answer my call.
- President of Multi-Market Restaurant Chain Testimonial
What Our Clients are Saying...
Expert legal counsel is vital to those of us running independently owned franchises but still having to follow general guidelines from our parent company. As a hotel franchise owner of multiple properties under an international umbrella, I have used Jimerson Birr to guide me through a wide range of items to ensure I am compliant to avoid any repercussions. I can tell them what I need to accomplish, and they can quickly provide me with the information, resources and knowledge to make an informed, smart business decision. We try to deliver an experience that exceeds expectations to our customers, and it seems that they do to.
- Hotel Franchise Owner
What Our Clients are Saying...
Property and casualty insurance claims can often become quite contentious. Like many insurance agencies along coastal communities, coverage relative to damage from natural disasters is a regular part of our day-to-day claims. These claims can often become complex in nature and when our agency needs to contract legal counsel, Jimerson Birr is always our first choice. Throughout our experience with this firm, we have always encountered a fine level of attention and detail which has allowed us to avoid many costly errors along the way. The firm's professional approach to each individual matter we have brought to them has always been handled with winning strategy.
- Insurance Brokerage Department Manager
What Our Clients are Saying...
Jimerson Birr exemplifies a firm that understands business as much as they understand the law. They always pleasantly surprise me when I need to know a simple answer on the fly. They are responsive and can get straight to the issue without racking up a big bill for my modest agency. When I refer them work, they take great care of my clients, which helps me develop more business. We've had construction and business interruption issues that were really challenging, but they knew how to get a good result from a bad situation. My referral of the firm to my clients is a reflection of my own business and thusly a testament to the faith that I have in them as a whole.
- Insurance Agency Owner
What Our Clients are Saying...
When my company began courting distribution agreements during recent expansion, we were referred to Jimerson Birr to strategize. What I found in this firm is a combined skillset of legal expertise and business acumen that is truly one-of-a-kind. Not only were they able to assist me in this transitional phase and selection process, but they have offered so much more in terms of business solutions and ensuring our agreements were sound and fair. As business steadily increases, I have relied heavily on Jimerson Birr to protect my interests and serve as our legal champion.
- Printing Manufacturing President
What Our Clients are Saying...
When we purchased our new manufacturing plant, Jimerson Birr guided us through the entirety of the process with both our immediate and long-term business goals in mind. They effectively created an ownership transition plan and efficiently handled what can often become a drawn-out process one that was a pleasant, well-thought endeavor for all parties. This complex process was made a little easier because we had the right legal counsel by our side.
- General Manager of Food Distribution Company Testimonial
What Our Clients are Saying...
Connected. Jimerson Birr's experienced attorneys and a network that transcends many other business law firms is an advantage worth exploring. They bring sound advice, are quick take hold of the subject, and get to the point. Through diligent preparation and communication, you will always know where you stand and how your matter is progressing. Jimerson Birr disciplined approach typifies what a quality legal practice can do for anyone working in the professional services industry. We've actually upped our game in the service department based on methods Jimerson Birr employed with us and our clients.
- Managing Partner of Regional Accounting Firm Testimonial
What Our Clients are Saying...
As a leader of a recruiting company with a local presence, I become acquainted with Jimerson Birr during one of their recruitment efforts. As my company transitioned to outsourcing its legal counsel, I was immediately impressed by what I learned about this firm. After assisting them with a project, I decided to explore the options of using them to support our company's own needs. I have been so impressed with their legal capabilities and have since used Jimerson Birr as my legal partner for a bevy of matters. This organic union is one that came at just the right time, and I cannot recommend their services enough.
- Staffing Solutions Human Resources Generalist
What Our Clients are Saying...
Industry leaders. They cut through the noise and get straight to the point. In a market with high stakes and quick changes, Jimerson Birr's unique understanding of the real estate industry makes them an invaluable resource for developers of all forms. They are able to effectively leverage their experience and expertise to lead negotiations, craft cost-effective and custom solutions and ensure imminent success by creating a solid foundation to build from.
- Real Estate Investment Executivev
What Our Clients are Saying...
Commercial evictions and tenant matters are ones that often need to be handled with a specific level of care. During a commercial removal process, I needed to obtain counsel and a colleague immediately referred me to Jimerson Birr. A successful ending to what would become a litigious journey was made possible by the firm's extensive leasing knowledge and willingness to fight hard when it mattered most. We've encouraged our colleagues, owners and tenants to use them for their legal needs.
- President of Commercial Property Management Company
What Our Clients are Saying...
Jimerson Birr has handled contracting issues and litigation work for our technology company with headquarters on the First Coast. We've given them a wide variety of problems to solve, and they have handled quite a few issues, ranging from more complex matters relative to intellectual property  matters, services agreements, confidentiality and non-compete issues to helping us establish more focused operational policies that help us scale. Their extensive understanding of handling issues with the technology sector and steadfast insight on best practices has continually proven beneficial to our organization. When you put your trust in our Jimerson Birr, they will take a true hands-on approach.
- Software Development Chief of Operations
What Our Clients are Saying...
We brought in Jimerson Birr to contribute to our organization's growth and focus. Their suite of abilities extends beyond law—this firm truly understands what makes a business tick. By working with Jimerson Birr, our management team was able to collaboratively build operational policies and procedures, craft specific risk management tools and, overall, reexamine the way we run our business to be more effective and profitable to further establish our place in the market. Any organization, whether established or in the early stages, can benefit from engaging this firm to help you create a stronger future for your business.
- General Manager of E-Commerce Company Testimonial
What Our Clients are Saying...
Recently, we started using them for litigation matters. They've always given practical advice and reported progress in ways that I could make key strategy decisions feeling informed. They promptly return emails and calls, they keep me updated and don't require me to ask for an update, they don't leave me surprised and they took time to learn the intricacies of our business. Their broad understanding of the litigation in any industry coupled with their sharp legal eye proved to be valuable during the times they advocated for our business needs and ensured that our interests were protected.
- General Counsel for Railroad Company Testimonial
What Our Clients are Saying...
Specialized, focused and efficient. The attorneys at Jimerson Birr proactively manage a wide range of matters for our company and their no-nonsense, laser-focused approach sets them apart from many other firms we've encountered in the past. They are quick to direct us towards our goals and help us prevent risk. When in need of quality legal counsel, this law firm gets the job done quickly and gets it done right. My highest recommendation goes to the experienced attorneys at Jimerson Birr.
- Director of Safety and Training for Trucking and Tanking Company Testimonial
What Our Clients are Saying...
Jimerson Birr has performed litigation work for our bank and other banks we have worked at for many years. They have tackled some of the most challenging cases, ranging from complex foreclosures to bank and insurance fraud, to involuntary bankruptcies. Many of the cases required extensive industry and legal knowledge, and most all required unfriendly and lengthy negotiations or litigation. In each of those cases, JB did the necessary work, prepared in depth and we were successful without exception. I would highly recommend this firm for your litigation work, among many other service offerings.
What Our Clients are Saying...
Our attorneys at Jimerson Birr listen and take time to understand the nuances of our business and the risks we face with every deal or decision in a way that has earned them tremendous credibility. They thoroughly prepare us and put us in a position to anticipate our challenges rather than be surprised by them. Equally impressive and noteworthy is their great skill in negotiation and litigation. Great firm with great lawyers.
- General Counsel for Electrical Contractor
What Our Clients are Saying...
Jimerson Birr has provided representation for my business and our trade partners for many years. They have successfully defended our most complex cases, including project contracting, delay and payment claims, OSHA Citations, and bond surety disputes. Their industry-leading legal knowledge is a driving force during successful litigation and execution. They have my highest recommendation for any construction or business-centric legal needs.
- President of Large Commercial Contractor Testimonial
What Our Clients are Saying...
Professional. No hype, no blustering, no false promises, no stumbling around the issues. They listen, have quick command of the subject, provide sound advice going in, and get to the point. Preparation is their key. In an environment filled with pretenders, Jimerson Birr is a great example of what a quality legal practice can do for lenders of all forms.
- Chief Executive Officer of Mixed-Use Real Estate Specialty Lender
What Our Clients are Saying...
This firm does it all. They have been critical to ensuring that the governing documents and policies of our HOA are clear, complete and applied consistently. Through their industry expertise, they minimize risks of disputes amongst neighbors in our community, and when such disputes arise they are efficient and economical problem solvers. For years, this firm has provided prompt, personal and reliable legal services. Their professional and forward-looking approach has always given our board the tools and the answers it needs to be able to provide the best possible leadership to the Association that elected us.
- HOA President for 1,300 Home Community
What Our Clients are Saying...
This is my go-to firm when my associations need to get things done well and in a hurry. This firm is action oriented. They don't sit around talking about it- they get it done. Whether that task is collecting fees and assessments, helping my boards make challenging decisions, or coaching the association to run like a properly functioning business, Jimerson Birr develops timely, winning strategies that reflect well on my company. My referral of this firm to my association customers is a reflection of our reputation, and this firm has earned my trust that they will not let us down or diminish our brand. Would highly recommend.
- President of Large Property Management Company