Family Law
Family law covers any legal issues that arise from a relationship breakdown, including divorce, legal separation, children's matters, property settlements, financial agreements, and child support. It also includes issues such as adoption and surrogacy. The law can provide assistance to married couples or couples who have been in long-term relationships or have children together but did not marry. Depending on your circumstances, there are a range of different services available to assist you with the these matters. Our services include everything from attempting pre-suit resolution, to guiding you through the family law litigation process, to helping you get a final dissolution, time-sharing, child support orders.
Dissolution of marriage—or divorce—is the legal process of ending a marriage, which involves both parties, property division, and often times, time-sharing of minor children. The actual process of filing for a dissolution of marriage varies from state to state and can range from a simple form to a lengthy legal process. Many times, the dissolution of marriage process includes matters related to time-sharing of minor children, including the care, control, and maintenance of children born during the marriage. Our goal at Jimerson Birr is to guide you through these processes with confidence, compassion, and accountability.
This area of law also includes matters related to domestic violence and protective orders, and our team has extensive knowledge on how to both prosecute and defend domestic injunctions. Our trial experience and attention to detail is well-suited to represent clients in these very difficult situations to achieve the best outcome to keep people safe, while retaining basic rights.
Our Family Law team understands intimately family law and the emotional and mental obstacles that often times accompany it. Importantly, our team understands how to utilize the law to assist our clients in achieving their family goals with dignity, respect, and financial stability.
Jimerson Birr provides families with legal counsel to address the full spectrum of family law-related issues, including:
Dissolution of Marriage

Time-Sharing (Custody) of Minor Children
Child Support
Spousal Support (Alimony)
Property Division
Distribution of Marital Assets and Debts
Prenuptial Agreements
Domestic Violence
Paternity Issues
Adoption
Surrogacy
Our Family Law lawyers endeavor to provide you and your loved ones with a heightened sense of security and comfort during troubled times. Our clients look to us to bring a distinctively high degree of quality, passion and creativity to resolve transitional life challenges effectively and cost efficiently.
Jimerson Birr is a good fit for family law clients because of its multi-dimensional family law practice that has a proven track record of success in handling a wide range of family legal issues. The attorneys at Jimerson Birr who practice family law are highly skilled and experienced in the field of family law, and have a deep understanding of the legal principles and procedures involved in these types of cases. They are also compassionate and empathetic, and are dedicated to protecting the rights and interests of their clients throughout the legal process.
In addition, Jimerson Birr offers a wide range of services to family law clients, including divorce representation, child custody and support negotiations, prenuptial and postnuptial agreements, adoption, and more. The attorneys at Jimerson Birr are also experienced in alternative dispute resolution methods such as mediation and collaborative law, which can often help to resolve disputes more efficiently and effectively than traditional litigation. This allows clients to have a variety of options to choose from and find the best solution for their case and situation. Our clients regularly inform that we've delivered on our reputation providing personalized attention and communication to each client, which makes the process less stressful during a trying time.
Hiring a family law lawyer from a firm with vast knowledge of business can bring many benefits to your case. A lawyer with business knowledge can provide valuable insight into financial and property matters, including the division of assets, alimony, and child support. They can also help to identify and value complex assets such as businesses, stocks, and investments, which can be critical in ensuring a fair division of property. Experience in issue spotting and complex problem solving helps our clients to anticipate and manage potential tax implications of the divorce, which can help to protect their financial interests in the long-term. Please contact our business-oriented Family Law team to find out more about how we may be able to leverage our business knowledge to negotiate and advocate for your interests more effectively.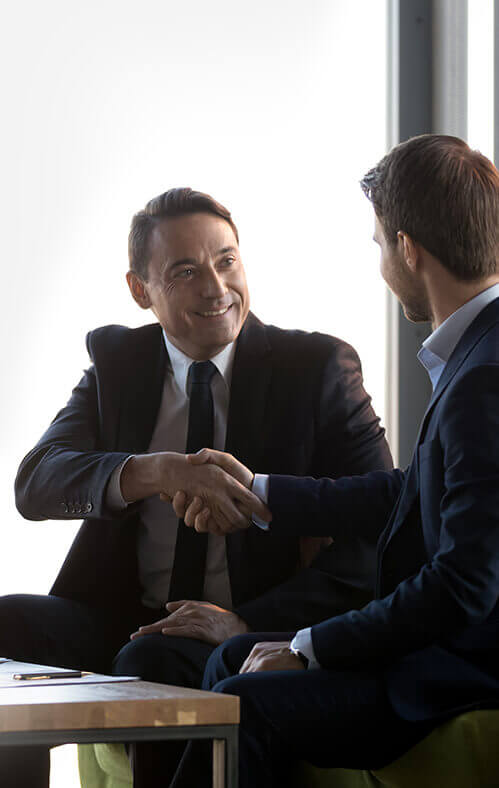 We live by our 7 Superior Service Commitments
Conferring Client-Defined Value
Efficient and Cost-Effective
Accessibility
Delivering an Experience While Delivering Results
Meaningful and Enduring Partnership
Exceptional Communication Based Upon Listening
Accountability to Goals
Learn more
Attorneys
Theresa C. Pontieri